Ukraine war in maps: Tracking the Russian invasion
By The Visual Journalism Team
Ukraine is stepping up its operations to recapture occupied territory as Russian forces continue attempts to advance in the east.
Here are the latest developments:
Ukrainian forces attempting to retake southern city of Kherson
Russian troops there are "virtually cut off" after bridge attack
In the east, Russian forces are trying to advance in Donetsk
Ukraine's second largest power station reportedly captured
Meanwhile, work to resume grain exports from Odesa is underway

Ukraine on offensive in south
A counter-offensive by Ukrainian troops in the south of the country is "gathering momentum" around the occupied city of Kherson, according to the UK Ministry of Defence (MoD).
Ukraine's forces have been using new long-range artillery to target bridges across the Dnipro River and the MoD said that two recent attacks on the Antonivskiy Bridge in Kherson have left Russian troops "virtually cut off".
Kherson was the first city in Ukraine to be taken by Russian forces after their invasion in February. The MoD said its loss would "severely undermine Russia's attempts to paint the occupation as a success".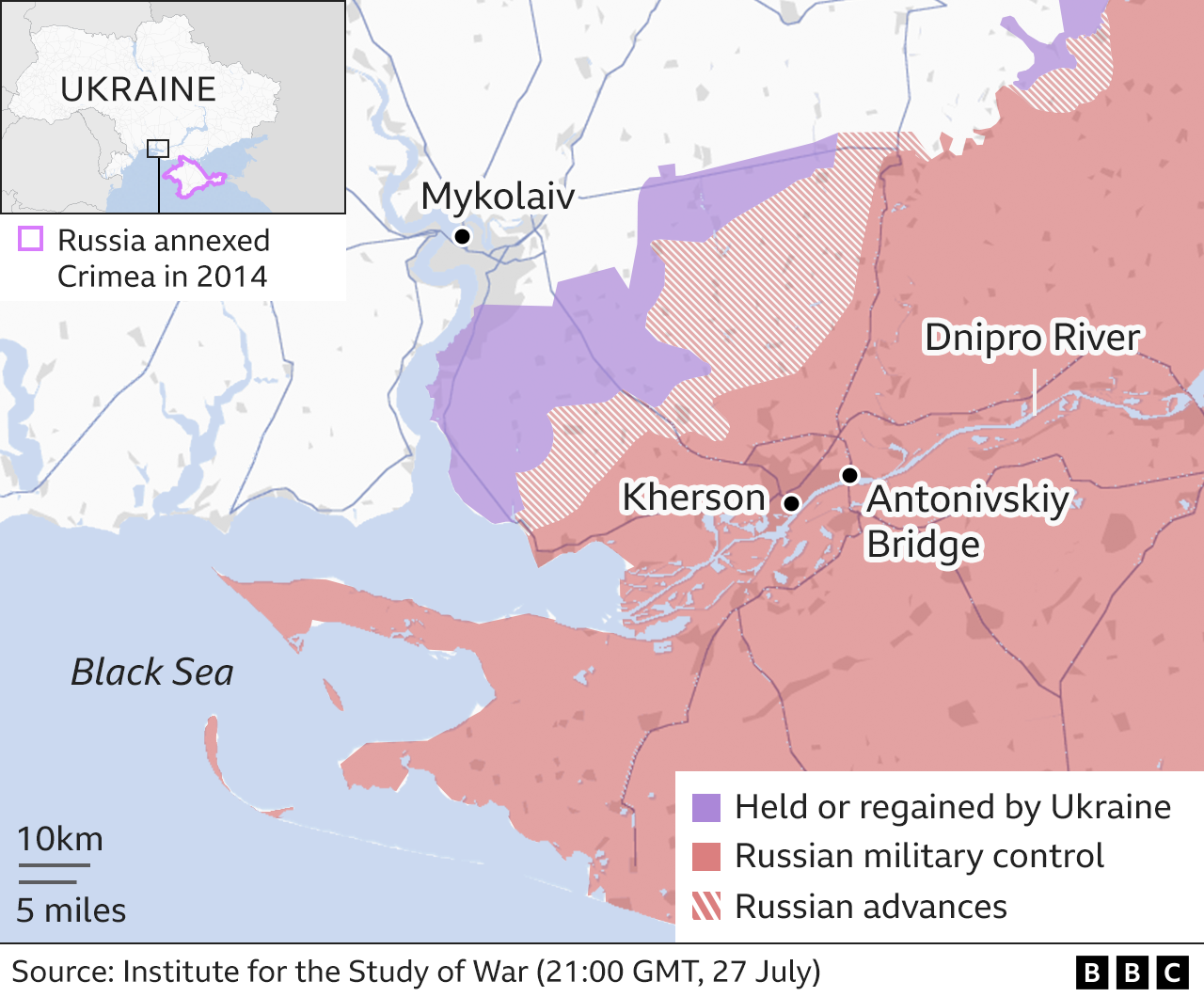 In the southern port of Odesa, which has remained under Ukrainian control throughout the conflict, officials have said they are working to resume grain exports after an agreement was reached with Russia last week.
Under the deal, Russia agreed not to target ports while grain was in transit, while Ukraine pledged to guide cargo ships through waters that have been mined.
However, the agreement was thrown into chaos less than 24 hours after the deal was signed, when two Russian missiles targeted the port in Odesa.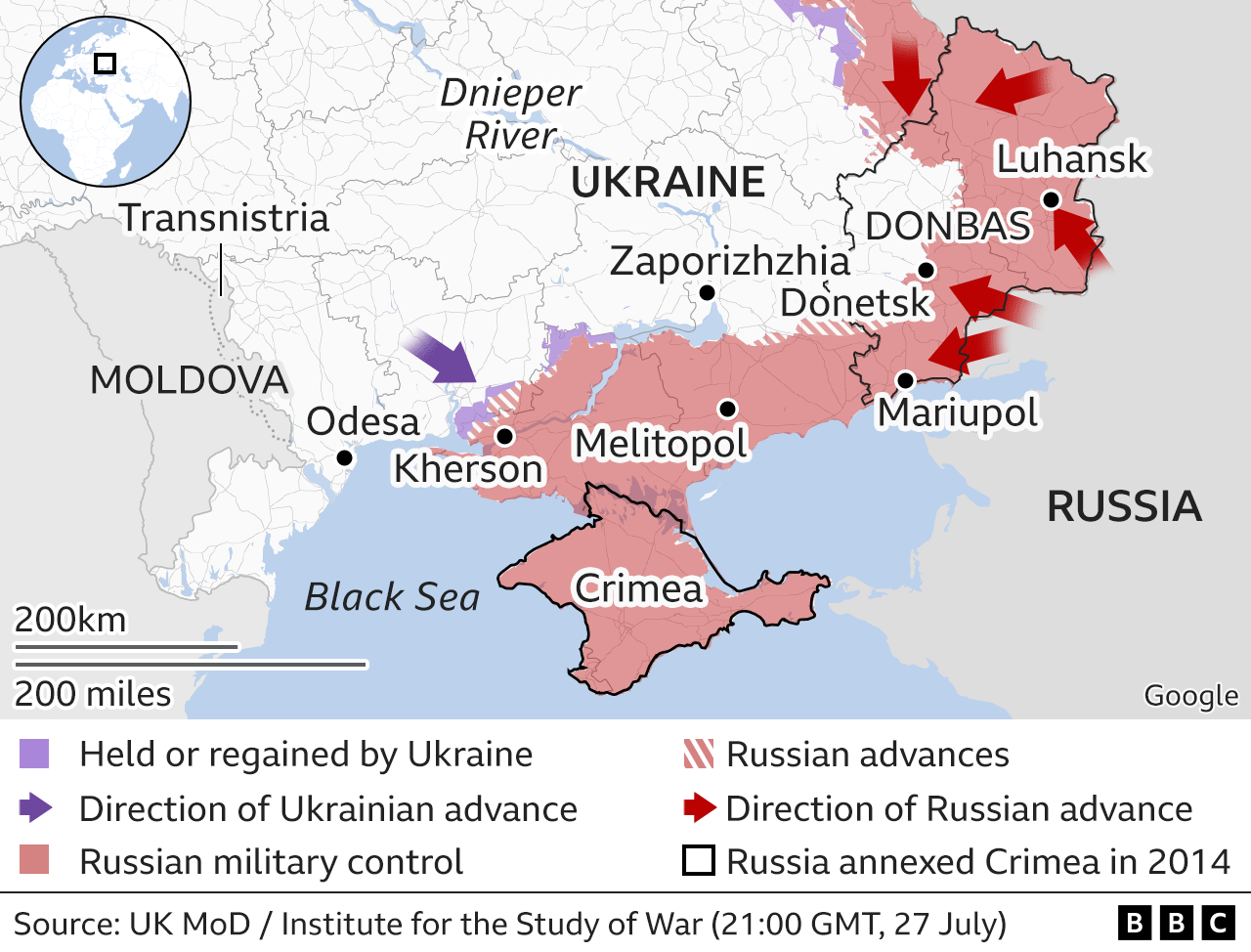 Russia edging forward in east
Russian officials have said their forces are fighting for the "complete liberation" of the Donbas, which broadly refers to Ukraine's eastern regions of Donetsk and Luhansk, where Russian-backed separatists held significant territory before the invasion.
Russian forces now control all of the Luhansk region and they are continuing to make small advances in the Donetsk region.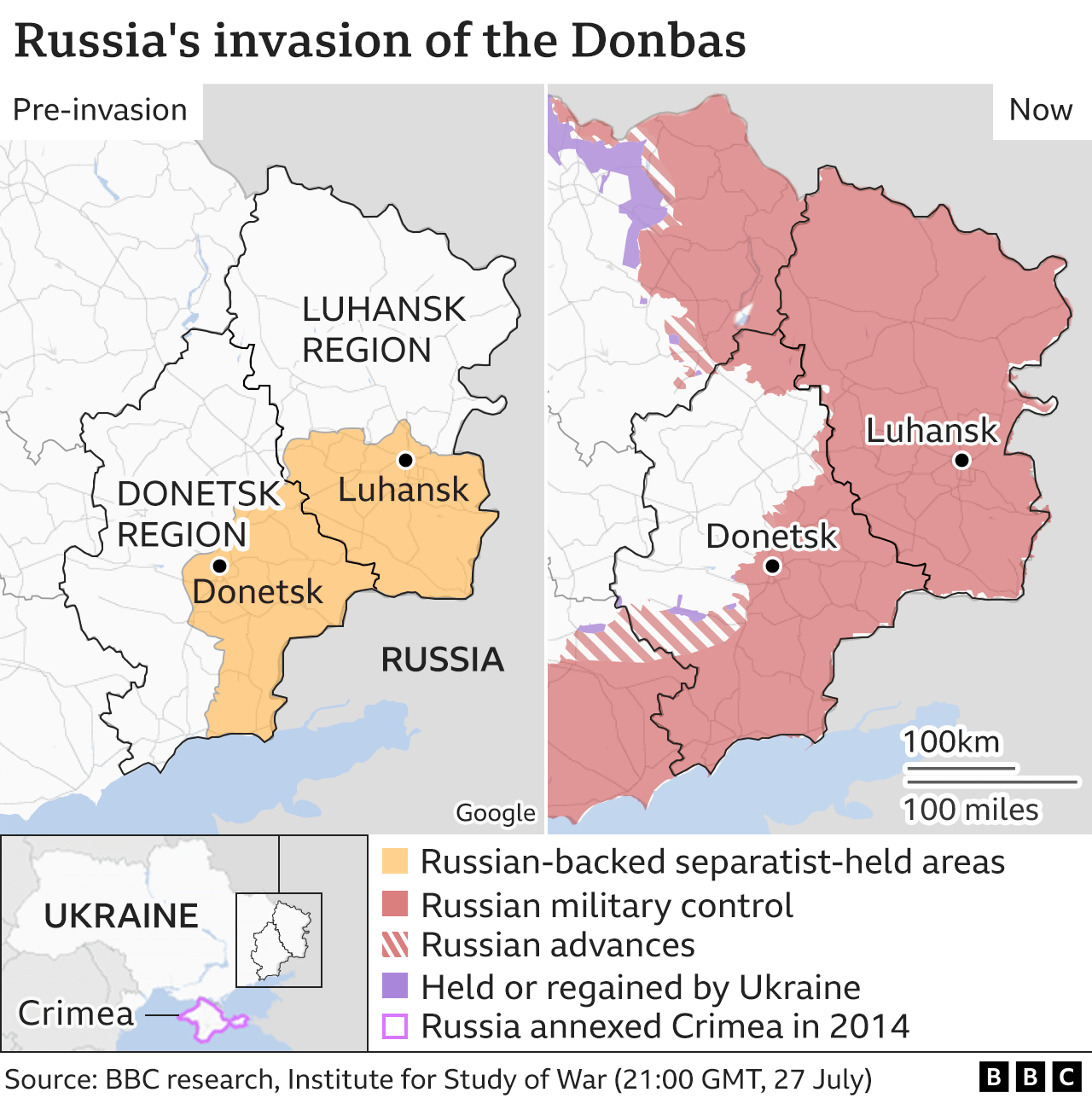 Having captured the strategically important cities of Severodonetsk and Lysychansk in recent weeks, Russian troops are now focussing the efforts in the region on the nearby cities of Siversk and Bakhmut.
The Russians say they have now taken control of Ukraine's second-largest power station in the nearby town of Svitlodarsk. Seizing the Soviet-era coal-fired Vuhlehirsk plant would be the first strategic gain for Russian forces in more than three weeks.
But the offensives in this area are the only operations that the Russians appear able to sustain in Ukraine at the moment, according to the Institute for the Study of War (ISW), with their resources stretched by the Ukrainian counter-offensive in Kherson and another around Izyum.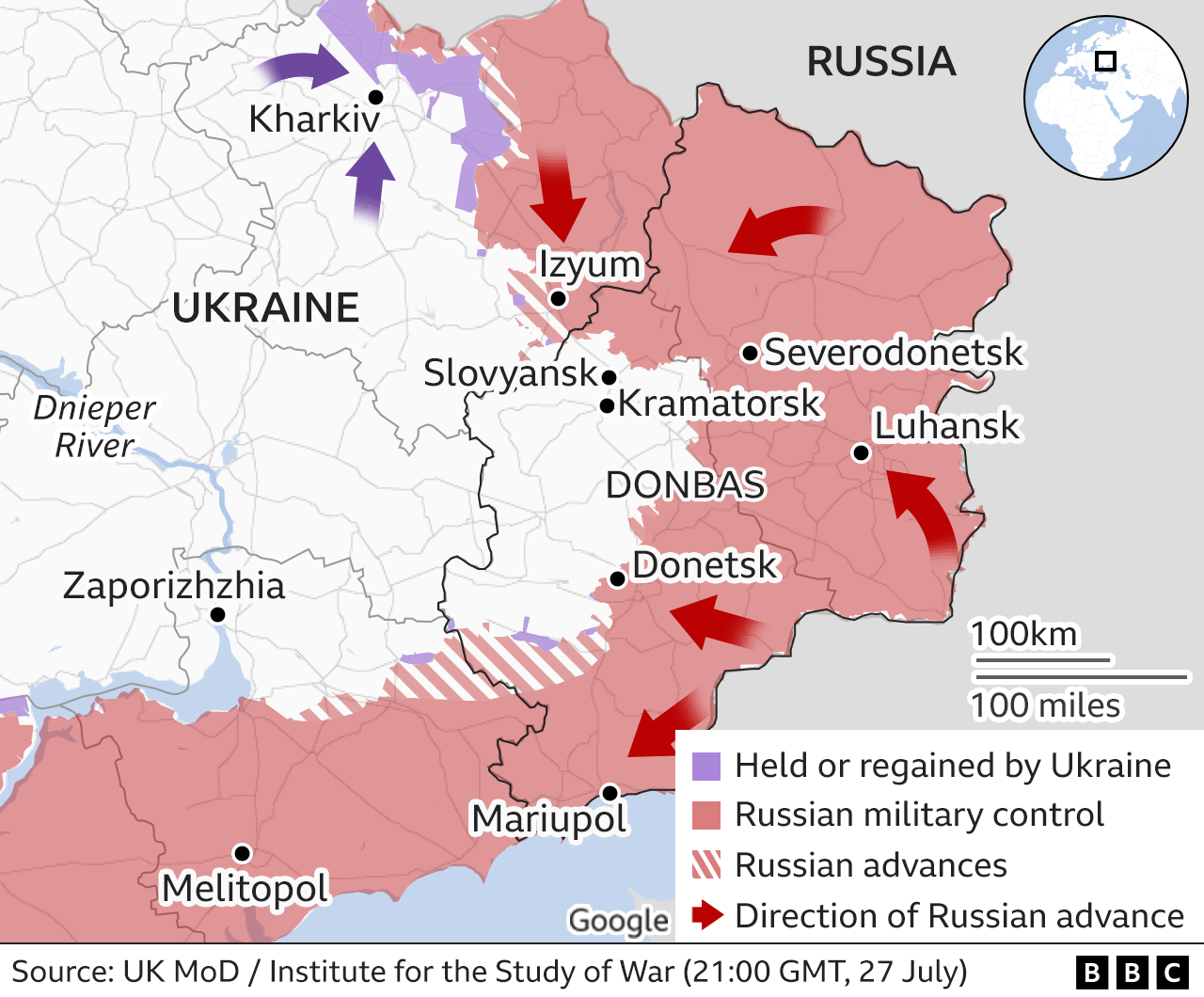 Western weapons boost Ukraine
President Volodomyr Zelensky has called on Western countries to send Ukraine more weapons, telling a recent meeting of Nato that his forces needed "much more modern systems" to help them "break the Russian artillery advantage".
Several Western shipments of heavy weaponry – such as US multiple rocket launch systems – have made it to the front line in recent weeks, allowing Ukraine to attack from greater range.
Retired British Army officer General Sir Richard Barrons told the BBC that he had no doubt that the arrival of "some Western weapons has made a difference" to the Ukrainian side.
He said Ukraine's new longer-range weapons had forced Russia to "reorganise how they operate" but he warned that there was "still a long way to go" in the conflict.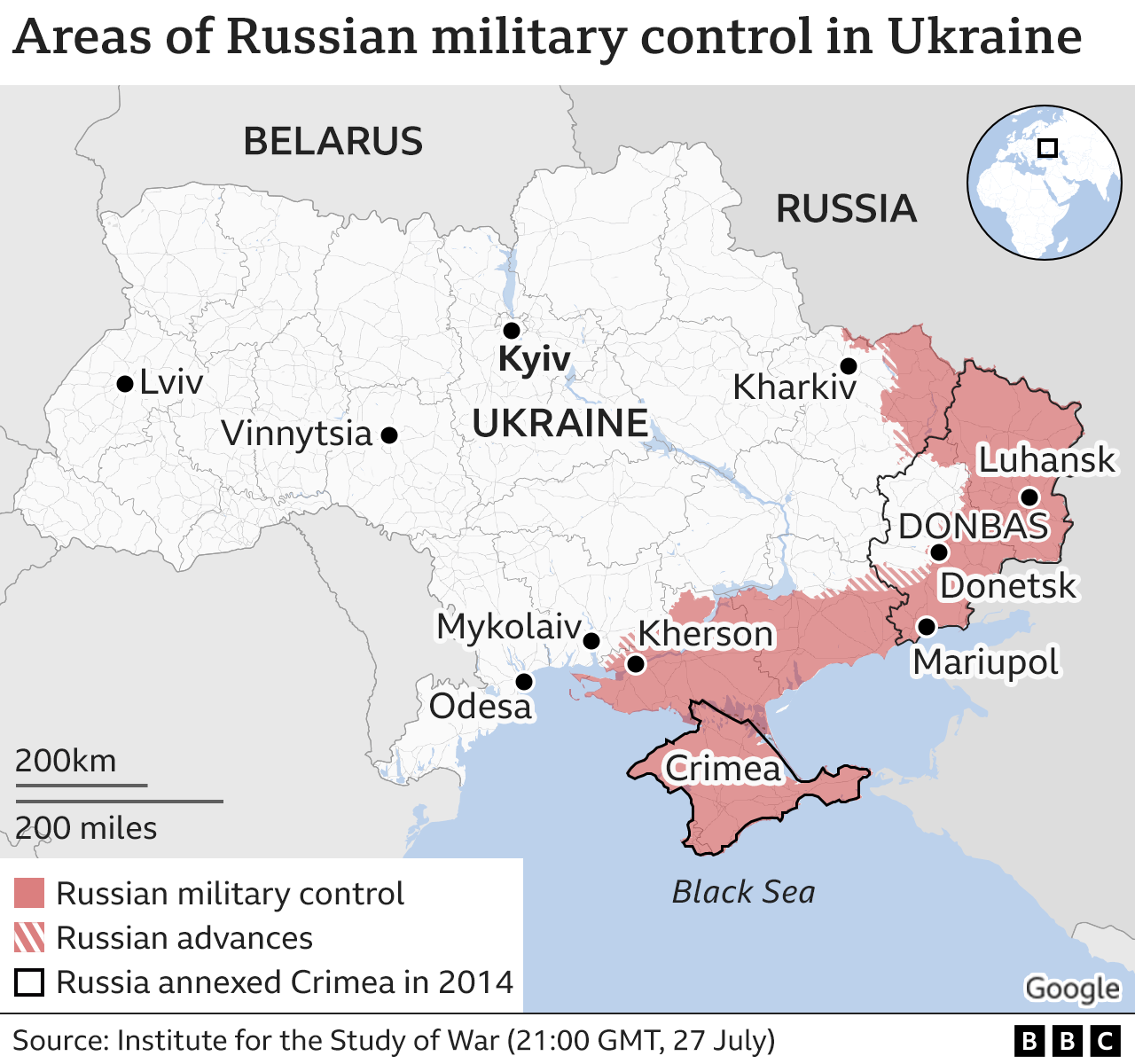 Russia invaded Ukraine on 24 February, but Ukrainian forces retook large areas around Kyiv in early April after Russia abandoned its push towards the capital.
Areas in the west of the country, including Lviv, have seen missile attacks but no attempt by Russian forces to take and occupy ground.
The Russians have suffered heavy losses since the invasion began and significant quantities of Russian weaponry have also been destroyed or captured.
By David Brown, Bella Hurrell, Dominic Bailey, Mike Hills, Lucy Rodgers, Paul Sargeant, Alison Trowsdale, Tural Ahmedzade, Mark Bryson, Zoe Bartholomew, Sean Willmott, Sana Dionysiou, Joy Roxas, Gerry Fletcher, Jana Tauschinsk, Debie Loizou, Simon Martin and Prina Shah.