BY DARRAGH ROCHE ON 5/31/22 AT 4:59 AM EDT01:12
Canada Moves To Ban Handgun Sales In Wake Of Texas School Shooting
SHARE
Share on FacebookShare on TwitterShare on LinkedInShare on RedditShare on FlipboardShare via EmailComments
NEWSCANADAJUSTIN TRUDEAUGUNSCONSERVATIVES
Conservatives have strongly criticized new gun control measures proposed by Canadian Prime Minister Justin Trudeau and expressed concern about similar tight restrictions coming to the U.S., with one member of Congress warning of a "dystopian future."
Trudeau introduced new legislation on Monday that would put a national freeze on the ownership of handguns if it passes the Canadian parliament later this year. The country already has bans on more than 1,500 types of "assault-style" firearms.
"What this means is that it will no longer be possible to buy, sell, transfer or import handguns anywhere in Canada," the prime minister said.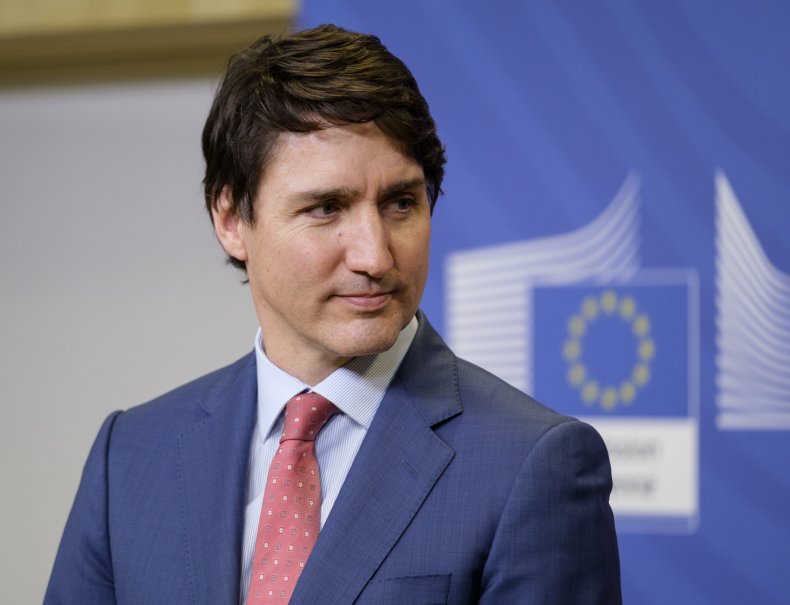 The move comes after the deadly elementary school shooting in Uvalde, Texas that left 19 children and two teachers dead.
Conservatives in the U.S. strongly criticized the proposed Canadian legislation and some appeared to express panic at the idea that similar measures could be introduced in the U.S. as well.
Representative Thomas Massie of Kentucky's 4th district tweeted: "The dystopian future Trudeau is manifesting in Canada is coming to America if U.S. citizens don't get involved."
Representative Dan Bishop of North Carolina's 9th district shared a video of part of Trudeau's remarks about the legislation, and wrote: "The U.S. Constitution is a gift from God. A bulwark against despotism. A unique advantage for Americans. The basis of American exceptionalism. Will it hold?"
NEWSWEEK SUBSCRIPTION OFFERS >
Representative Matt Gaetz of Florida's 1st district also shared footage of Trudeau and wrote: "The True North strong and (less) free…" in parody of the Canadian national anthem.
Brigitte Gabriel, founder and chairman of conservative group ACT for America, compared Trudeau's actions to Democrats' support for gun control measures.
"First Canada banned 'Military Grade Assault Weapons' and now they're banning handguns," Gabriel tweeted. "Any Democrat who says they only want to ban 'Assault Rifles' is lying."
READ MORE
Robby Starbuck, who is running for the House of Representatives in Tennessee's 5th congressional district, wrote: "Don't let any leftist tell you that they'll stop at AR-15's. They won't.
"Just look at Canada. In 2020 they banned AR-15's. Two years and three weeks later they're banning handguns too. This is the Dem's plan. Don't let them gaslight you. Our 2nd Amendment rights shall not be infringed!" Starbuck said.
Chris Palombi, a Republican candidate for Maryland's 5th district, tweeted: "O Canada… Trudeau is turning our neighbors to the north into a totalitarian dictatorship. Just wait until the slippery slope continues and they begin seizing guns…"
"Those who fail to learn from history are doomed to repeat it," Palombi said.
The new legislation would aim to combat firearms smuggling and trafficking "by increasing maximum criminal penalties and providing more tools for law enforcement to investigate firearm crimes."
When Trudeau was asked whether the legislation goes too far, he referred to events in the U.S.
"We need only look south of the border to know that if we do not take action, firmly and rapidly, it gets worse and worse and more difficult to counter," the prime minister said.