The Watchman with Erick Stakelbeck611.000 Abonnenten
Thanks236.293 Aufrufe 24.05.2023 #Iran#Israel#TheWatchman
On today's Watchman Newscast, host Erick Stakelbeck breaks down the secret Iranian underground nuclear sites that may even be unreachable for bunker busting bombs. Does this speed up the timetable for an Israeli attack against Iran's nuclear facilities? Plus, Israel's Defense Minister says the Jewish State has doubled its attacks against Iranian forces in Syria over the last few months. Is a major collision approaching? Watch now! #Iran#Israel#Nuclear#IranNuclear#TheWatchman
Israel Prepares for MULTI-FRONT War; Says Iran Pouring BILLIONS Into Terror | Watchman Newscast
The Watchman with Erick Stakelbeck587.000 Abonnenten
Thanks127.834 Aufrufe 21.04.2023 Hamas News | The Watchman with Erick Stakelbeck
On today's Watchman Newscast, host Erick Stakelbeck breaks down remarks by Israel's Defense Minister, Yoav Gallant, about a coming multi-front war Israel will wage against Iran and its proxies, on all sides. Speaking of those proxies, Gallant also shared just how much money Iran pours into the likes of Hezbollah and Hamas each year, and the numbers are stunning. How much? Watch now! #Israel#Iran#Terror#MiddleEast#TheWatchman
Temple Mount CLASHES Rage; Iran Supreme Leader BOASTS of Israel's Demise | Watchman Newscast LIVE
The Watchman with Erick Stakelbeck567.000 Abonnenten
Thanks73.150 Aufrufe Vor 9 Stunden live gestreamt #Israel#Jerusalem#TempleMount
On today's Watchman Newscast Livestream, host Erick Stakelbeck breaks down an outbreak of violence on Jerusalem's Temple Mount as Passover arrives. Spurred on by the likes of Hamas and Palestinian Islamic Jihad, rioters barricaded themselves inside the Al-Aqsa mosque and attacked Israeli police. Meanwhile, rockets launched from Gaza targeted towns in southern Israel, and the Israeli Air Force responded with strikes. All of this comes as Iran's Supreme leader gloats over internal unrest inside Israel and boasts that the demise of the Jewish State will come even sooner than he expected. As Israel faces threats on all sides, what comes next? Watch now! #Israel#Jerusalem#TempleMount#TheWatchman
U.S. CAUGHT inciting protests in Israel, Netanyahu furious | Redacted with Clayton Morris
Redacted1,84 Mio. Abonnenten
Thanks290.641 Aufrufe 04.04.2023 #redacted#claytonmorris#natalimorrisDid the U.S. cross its best friend Israel? Israeli Prime Minister Benjamin Netanyahu warned the U.S. to keep its eyes on its own paper in the wake of massive protests. Protestors by the tens of thousands took to the street to contest judicial reform and arranged massive strikes. How much role did the U.S. have in the Israeli unrest? We speak to Redacted correspondent Dan Cohen all about it.
BREAKING! Norway helped DESTROY the NordStream pipeline in new Seymour Hersh report | Redacted News
Redacted1,74 Mio. Abonnenten
Related article:
Thanks268.172 Aufrufe 24.02.2023 #redacted#claytonmorris#natalimorris✅ Sign up for our Free DAILY newsletter, delivered right to your inbox first thing in the morning. ➜ https://redacted.inc ✅ Become a Redacted Rebel VIP and get access to EXCLUSIVE content, live streams, and more! ➜ https://redacted.locals.com 🐦 Follow Redacted on Twitter: https://Twitter.com/TheRedactedInc 📚 Read Clayton and Natali's Amazon best-selling book on finance. How To Pay Off Your Mortgage in 5 Years 👉🏻 https://amzn.to/3Guh4IC 💥 Follow us on RUMBLE: Come follow us on Rumble, a free speech platform, just in case anything happens to the YouTube channel due to censorship. https://Rumble.com/Redacted 🚀Limited Time: Get 15 Free stocks with moomoo! Open a free account and claim your free stocks valued up to $30,000 ➡ https://redacted.inc/moomoo🚀 🇦🇺 Australian users can get AU$110 cashback when depositing AU$1000 until Feb. 28, 2023. Don't miss out on the deal, if you are interested in checking it out click the link here: https://j.moomoo.com/00l2fm LIVE STREAM SCHEDULE: Monday – Thursday 1PM PST / 3PM CENTRAL / 4PM EST 📺 Want to bypass chat limits on our LIVE streams? Become a YouTube Channel Member today. This is TOTALLY different than the community over on Locals. Head to this link to join: / @redactednews #redacted#claytonmorris#natalimorris#news#independentjournalists —– About Clayton and Natali Morris: Clayton Morris is a former Fox News anchor. In Redacted, Clayton and his wife Natali take an in-depth look at the legal, social, financial, and personal issues that matter to you. They want to set the record straight and bring you the stories nobody else is telling. Along with the facts and the full picture, Redacted offers real-world analysis without an agency driven by corporate overloads. With Clayton's extensive journalism experience, he isn't afraid to demand the truth from authorities. Redacted is an independent platform, unencumbered by external factors or restrictive policies, on which Clayton and Natali Morris bring you quality information, balanced reporting, constructive debate, and thoughtful narratives.
( Northstream pipeline exlodes),Baltic Pipe: Norway-Poland gas pipeline opens in key move to cut dependency on Russia !!
By Alasdair Sandford with Reuters • Updated: 27/09/2022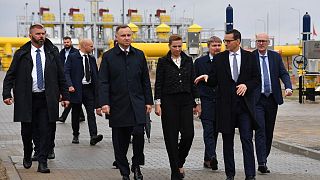 Polish President Andrzej Duda, 4th left, Danish PM Mette Frederiksen, 4th right, and Polish PM Mateusz Morawiecki, 2nd right, at the Baltic Pipe inauguration, Budno, 27/9/2022 – Copyright AP Photo
SHARE THIS ARTICLE
Leaders from Poland, Norway and Denmark have attended a ceremony to mark the opening of the new Baltic Pipe, a key stage in the drive to wean Poland and Europe off Russian gas.
The pipeline will transport natural gas from the Norwegian shelf via Denmark and through the Baltic Sea to Poland. It is the centrepiece of a Polish strategy to diversify away from Russia that began years before Moscow's February invasion of Ukraine triggered a global energy crisis.
The flows from Norway along with supplies via liquefied gas terminals are central to Poland's plan. The country was cut off from Russian gas supplies in April, allegedly for refusing to pay in roubles.
"The era of Russian domination in the field of gas is coming to an end, the era that was marked by blackmail, threats and extortion," Polish Prime Minister Mateusz Morawiecki said at the inauguration at Budno in western Poland.
Norwegian Energy Minister Terje Aasland said it was "an important step on the important road to Europe's independence from Russian energy".
about:blank
"We must do everything we can to eliminate energy as an instrument of Russian power," added Danish Prime Minister Mette Frederiksen. "Together we will defeat Putin."
The inauguration came after Danish and Swedish authorities identified several gas leaks on the Russian-operated Nord Stream pipelines, prompting fears of sabotage.
The Danish system operator Energinet said at the weekend that the Baltic Pipe link could be commissioned at full capacity a month early thanks to good progress on work in Denmark. It brings the planned date forward to the end of November instead of 1 January.
Construction in Denmark had been suspended for nine months for environmental reasons but resumed last March.
"Due to an extraordinary effort on the part of everyone involved, we were able to lay the remaining pipelines faster than expected. Full commissioning can therefore take place ahead of time," said Torben Brabo, Energinet's Director of International Relations.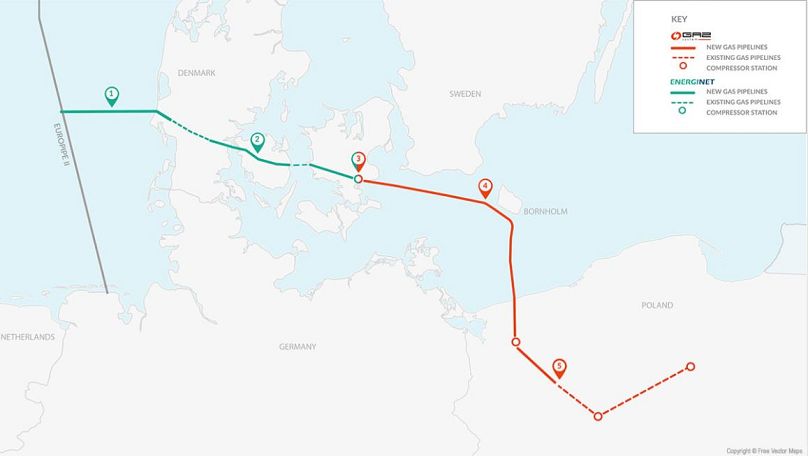 "Baltic Pipe is part of a larger Polish strategy to end dependency on Russian gas flowing through the Yamal pipeline. It was a cornerstone of the plan. The fact that it is being finalised earlier than expected of course comes at a good time, since Poland no longer receives the gas it used to," Trine Villumsen Berling, senior researcher in global security at the Danish Institute for International Studies (DIIS), told Euronews.
"It was, however, always the Polish plan to stop using Russian gas when the contract with Gazprom ran out by the end of 2022," she added.
The Polish energy infrastructure minister Mateusz Berger said on Saturday that the completion meant Poland should get double the amount of gas originally expected in the last quarter of the year.
Norway's Equinor said on Friday it had entered into a 10-year agreement to sell natural gas to Poland's PGNiG in a deal covering a volume of 2.4 billion cubic metres (bcm) per year, or around 15% of Polish annual consumption. The Baltic Pipe has an annual capacity of 10 bcm.
The contract with Equinor supplements Poland's liquefied natural gas (LNG) supply, domestic output and potential imports via interconnectors with its neighbours ahead of the coming winter. PGNiG said in a statement last week that it had secured its gas supply for the winter heating season.
In late August a gas interconnector between Poland and Slovakia came into operation — a key part of the North-South gas infrastructure corridor between the Baltic Sea, the Adriatic and Aegean Seas, the eastern Mediterranean Sea and the Black Sea.
"This interconnector will significantly improve the EU's security of supply and resilience of our energy system," said European Energy Commissioner Kadri Simson. The EU funded more than €100 million, or about 40% of the project costs.
Analysts say the new Baltic Pipe should have benefits for countries beyond Poland.
"The Baltic Pipe will also be important for the Baltic States. They can receive gas through the GIPL — Gas Interconnector Poland Lithuania — the same way Poland has received gas from Lithuania since April," said Trine Villumsen Berling.
"The corridor is also suitable to transfer gas from Poland to the Danish market, further adding to the flexibility and security of energy supply in the region," the DIIS said an energy assessment published in July.
It highlighted Poland and Lithuania as having been in the forefront of calls for "greater unity within the EU and stronger sanctions on Russian fossil fuels".
"Although a number of strategic projects in the Polish and Lithuanian energy sectors are coming to fruition today, they are the outcomes of the two states' long-term strategic visions of energy independence from Moscow's grip," the report said.