BY XANDER LANDEN ON 9/25/22 AT 12:06 PM EDT00:30
Russia State TV Warns The West If They Are Pushed Into A Corner Everybody Dies
SHARE
Share on FacebookShare on TwitterShare on LinkedInShare on RedditShare on FlipboardShare via EmailComments
NEWSVLADIMIR PUTINJAKE SULLIVANNUCLEAR WEAPONSRUSSIA-UKRAINE WAR
National security adviser Jake Sullivan said Sunday that U.S. officials have communicated to the Russians that there will be "catastrophic consequences for Russia if they use nuclear weapons in Ukraine."
Last week during a televised address to his country, Russian President Vladimir Putin threatened to use nuclear weapons on Ukraine.
"If Russia feels its territorial integrity is threatened, we will use all defense methods at our disposal, and this is not a bluff," the Russian president said. "Those who are trying to blackmail us with nuclear weapons should know that the winds can also turn in their direction."
Soon after the start of his invasion of Ukraine in late February, Putin put his nuclear forces on high alert. For months, Russian-state television has been framing the war as a battle between the West and Russia, whose goals could be expedited if the Kremlin drew on its estimated 6,000 warheads.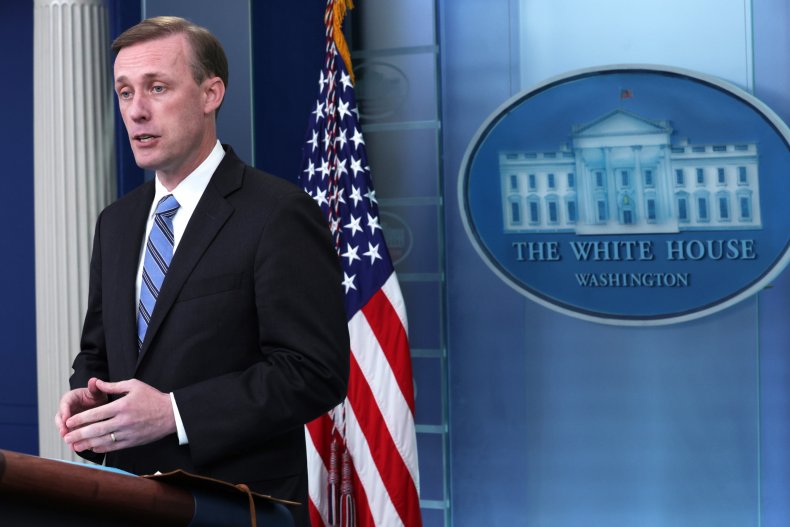 Sullivan's comments came during an interview on ABC News' This Week on Sunday.
"How serious was the nuclear threat that Putin made this week and how will President Biden respond if he makes good on it?" host George Stephanopoulos asked the national security adviser.
"We're taking it seriously. It's not the first time President Putin has made a nuclear threat in this conflict. He started way back in February when Russian tanks first rolled across the border, brandishing that nuclear card," Sullivan said.
NEWSWEEK SUBSCRIPTION OFFERS >
"And we have communicated directly, privately to the Russians at very high levels that there will be catastrophic consequences for Russia if they use nuclear weapons in Ukraine. We have been clear with them and emphatic with them that the United States will respond decisively alongside our allies and partners," he continued, adding that the Russians "well understand what they would face if they went down that dark road."
"So that means taking the fight directly to Russia?" Stephanopoulos asked.
"We have communicated to the Russians what the consequences would be, but we've been careful in how we talk about this publicly because from our perspective we want to lay down the principle that there would be catastrophic consequences, but not engage in a game of rhetorical tit for tat." Sullivan said.
Newsweek has reached out to the White House and the Russian Foreign Ministry for comment.
In an interview with Newsweek after Putin's address, Mikhail Kasyanov who served as prime minister under the Russian president between 2000 and 2004, said the Russian leader's comments were a "bluff."
"I don't think he will turn to a nuclear weapon for the simple reason that he realizes he himself would be immediately eliminated," Kasyanov said. "He is trying to scare people, he already did it a couple of times at the beginning of the year."
Meanwhile, Putin announced last Wednesday that Russia would undergo a partial mobilization in which reserves will be called upon to fight in Ukraine as losses of troops and equipment continue to pile up. The announcement is seen as an escalation of the conflict, but has been met with protests in more than 38 cities in Russia—a rare indication of growing frustration with the war among the country's citizens. The mobilization could lead to 300,000 reservists being called to serve.